Skip to content
Skip to navigation menu
We use cookies to ensure that we give you the best experience on our website. If you continue, you agree with our policy statement.
Social Rule Formation / International Standardization
Solving social issues through the formation of social rules
In industrial fields where the globalization of markets and the development of new technologies such as ICT and collaborative robots are progressing, the creation of safe working environments which leave no one behind is becoming a new social issue.
IDEC actively participates in the international and domestic expert committees of the International Organization for Standardization (ISO) and the International Electrotechnical Commission (IEC) to carry out development activities for international safety standards in response to the creation of new technologies in the global society. Also,  through activities to establish personnel certification systems which are essential for building and maintaining safe environments, we are striving to pursue safety and security while also achieving well-being.
Creating new markets through Cooperative  Safety / Safety 2.0
Among demands for the creation of work environments with safety and well-being through the utilization of information technology such as ICT and AI, we suggested  the need for an IEC guide on cooperative  safety as a Japanese representative of the IEC Advisory Committee on Safety (ACOS), and its development was approved in 2022.
It is expected to be officially published after votes are held by each country. In 2020, the IEC also published the IEC white paper "Safety in the Future," which is raising expectations for the application of next-generation safety in the global market.
Improving safety in diverse collaborative environments with methods  such as industrial robots
In 2006,  we developed a 3-position enable device  that can contribute to improving the safety of industrial robot systems, which are one of our core industries, and issued an IEC standard so that anyone can successfully achieve safety in collaborative environments which include  humans and robots. In addition, in 2020, we added new examples of applications as safety devices in machine tools and construction equipment  and also made revisions,  to show that they are effective even in new fields, contributing to the assurance of worker safety at various sites where people and machines exist together.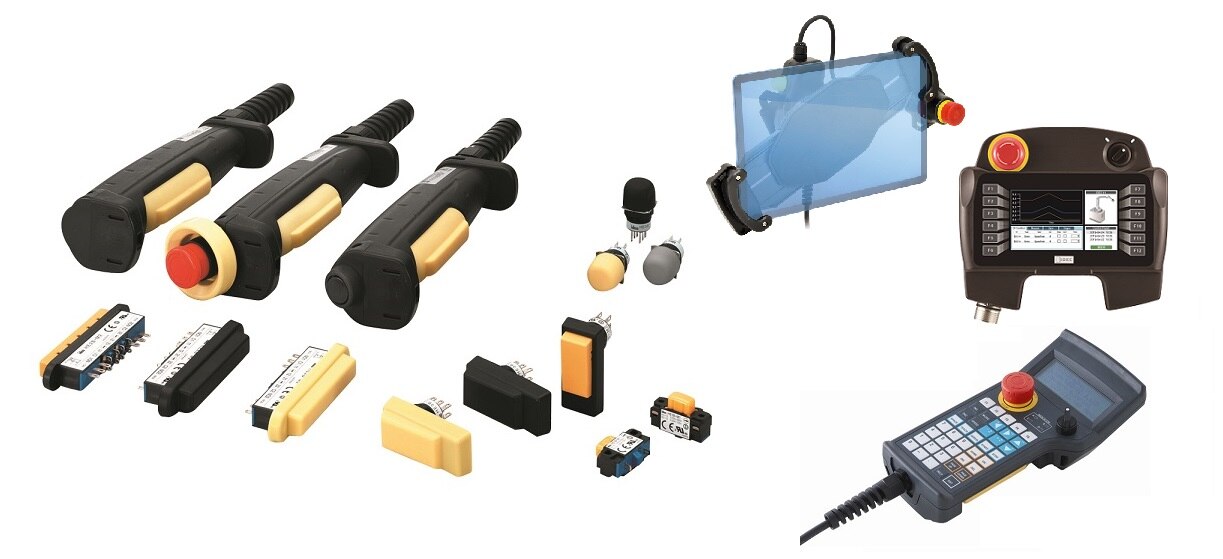 "3-position enable switch and examples of equipment installations"
Establishing a personnel certification system for machine safety, to ensure safe environments
In order to establish the safety of various machines and create safe environments, the capacities of people to design, install, control, and operate machines are critical factors in addition to the capabilities of machines and safety equipment .
Therefore, under the IEC System for Conformity Assessment Schemes for Electrotechnical Equipment and Components (IECEE) which IDEC is a participant in, a working group for personnel competence certification has been established, and the construction of systems which use the widely-spreading safety assessor system is being promoted.
IDEC will continue to contribute to the realization of a society with safety and well-being which is also sustainable, by proceeding to solve social issues through the formation of social rules based on our innovativeness and originality.